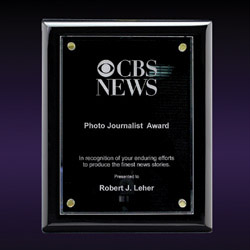 We offer sturdy, high quality awards for all occasions and accomplishments. Our awards come in a variety of shapes and sizes to meet your needs. You can reward the efforts of a child or honor an accomplished employee. We can provide almost any trophy, medal, plaque or award imaginable.
Our awards are fully customizable. Include the name and accomplishment of the recipient. Add a favorite quote, corporate logo or mission statement. The possibilities are endless.
Corporate Awards
Looking for the perfect way to show your appreciation for a job well done? Corporate Awards are the perfect solution. Choose from elegant crystal awards to sturdy, professional plaques. See the wide array of Corporate Awards here.
Sports & Academic Awards
Any athlete knows that earning a trophy, cup, or medal means you've won. You are one of the best! We have awards for any sport and accomplishment. Please feel free to browse our extensive list of Sports & Academic Awards here.