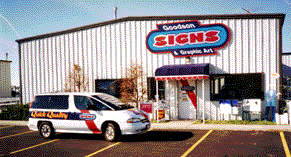 It's important to us that our clients know whom they're doing business with. Once you take the time to find out what we're all about, we're confident you'll like what you see.
Goodson Signs has been serving the Kaysville / Layton Utah area since 1984 when Mark B. Goodson founded the company on January 12th. Although we started as a one-man shop. It wasn't long before we began adding to our staff of sign artists. Some we trained while others came to us with well developed sign-writing skills. All design work and sign lettering was done by hand in those days.
In 1987, we purchased our first sign computer and plotter to assist with basic lettering by cutting vinyl letters. That system could not interact with other computers and could only use components made by it's manufacturer. Yet it was the best equipment of it's kind back then. We still hand painted most of our signs.
By the end of 1994 we had upgraded to our third computer system. Our books were showing that we had to make some other changes as well. The labor of hand lettering was costing us too much. In November of 1994 we stopped doing hand (brush) lettering and became an all computerized sign shop.
In November of 1995 we expanded our facility from 1500 square feet to 3500 square feet. This addition includes a beautiful and visually dynamic show room. We invite you to come see it. In 1996, we purchased a 4'x8' C.N.C. computerized table router and added another 1,200 square feet of space. This new equipment allows us to do beautiful (hand carved looking dimensional signage. We also use it to do cut out letters and logos for buildings and office reception walls. There is an endless list of possible products that can be made on this router table.
In December 1999 we designed our first web-site and went online for the new millenium.
On January 1st 2001 Goodson Signs Incorporated experienced an employee buyout. Mark Goodson left the company to pursue personal ambitions. Jason E. Wunderlich,( who has been with the company since 1991), and his wife Jennifer, purchased the company and took over the corporation presidency.
In 2001 after the 9-11 attacks the economy slumped and the company worked hard to survive the recession. One fortunate venture during this time was being involved in creating signs and graphics for the 2002 Winter Olympic Games in Salt Lake City.
Since then the company has continued to prosper. We have added various forms of technology including:
- Thermal printers for printing decals, labels, magnetics and full color graphics.
- A large format printer for printing full color Signs, Vehicle Wraps and Banners.
- A laser engraver/cutter for cutting letters and graphics, engraving plaques, awards and promotional items, and creating rubber stamps and relief carvings.
- A flatbed printer for direct printing of signs on foam board, corrugated plastic, Aluminum Composite, Wood and more.