Injection Molded Plastic Letters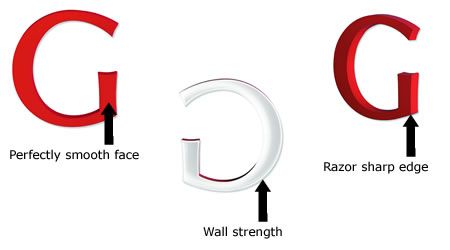 Injection Molded Plastic Letters by Gemini combine the attributes of several other letter types. They are made from C.A.B. (Cellulose Acetate Butyrate), a renewable resource (non-petroleum) plastic for incredible durability. They also are created using precision tooled molds for razor sharp edges and extra dimension. While still a plastic letter, they are suitable for many 'up-close' applications – even in small sizes. Metal finishes make it hard to tell them form the real thing.
Incredible Precision & Options.
From 2" to 18"; each a perfect letter.
Serifs are always sharp, edges always crisp.
Mounts to any surface with most hardware.
New Architectural style offers prismatic faces.
45 Standard Colors.
6 Standard Styles.
Better Alternative than Foam Letters.
Endures even the harshest conditions.
Blemish free automotive quality painted finish.
1-day production gives you instant results.
Made from a renewable resource (non-petroleum) plastic.
Where to Use Gemini Injection Molded Plastic Letters.
When depth is required in letterstyle.
Virtually any business, organization or institution.
Under all weather and environmental conditions.
When sharp edges are required.
If drilling is not allowed in installation.
For examples of our injection molded plastic lettering, please visit our Product Gallery.