Signs

A sign can let people know who, what and where you are and what you can do for them. Whether you want to brand your organization, advertise a promotion, mark a location, give directions or simply display information, you can do it best with a sign.
If you need a sign, for any reason, you've come to the right place. We've been in the sign business for over 20 years, and our experience shines through in our products. We offer a wide variety of signs, including:
Flat Faced Signs
Flat Faced Signs are what most people think of when they think signs. It means essentially that the face of the sign is only two dimensional, unlike dimensional signs or dimensional letters. Flat faced signs have many uses which include: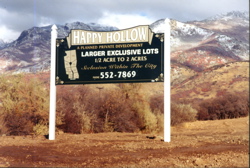 Flat faced signs are typically mounted to a wall or posts and are made from any of four types of materials: Wood, Metal, Plastic or Composites.
Our wooden signs are made from a 1/2" MDO, (Multiple Duraply Overlay). They are primed and painted to provide many years of outdoor advertising. Wood is the most popular substrate for development signs because it is sturdier and less expensive than some other sign material. Wood can also be cut into various shapes to add visual interest to the signs.
Metal Signs are typically made from either paint lock steel or aluminum. Steel has the advantage of being sturdier, less susceptible to dents. Where aluminum is a bit softer and lighter but will not rust. Aluminum is also available with a baked enamel finish, which is the best when it comes to weatherability.
Plastic Signs are typically made of acrylic, Lexan (polycarbonate) or P.V.C. Acrylic and Lexan are used most as electric sign faces. Lexan is the most durable but also the most expensive. Plastic signs are waterproof and easy to clean but must be mounted with care outside because they expand and contract a lot with temperature changes.
Composite materials are made by laminating thin aluminum sheets to a wood or plastic core. The result is a material that's more study than aluminum itself and yet retains it's excellent weatherability. Composites are also easily cut into shapes. They make great building signs where straight aluminum is not appropriate.
Whether you need a new sign face or simply need to change the information, we've got it covered. As with all our signs, we use only the highest quality materials to ensure a long lasting, professional quality product.
Note: The cabinet structure and electrical wiring and lighting are usually done by independant professionals who specialize in those fields.
Monument Signs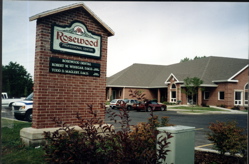 Establish your identity and stability with a sound structure designed to complement the surrounding landscape and architecture.
Reception Area Signs
Tie the look of your reception area in with your established identity. Reception area signs add that extra dimension to the look of your office.
Routed and Carved Signs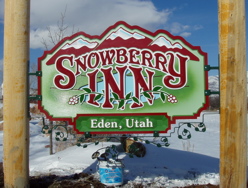 Dimensional signs use depth, shadow, and texture to add spectacular 3D effects to a sign. Dimensional signs are attractive, professional and inspire public confidence in your organization's image. For more information on this type of sign click